Professional Database Development IDE
The SoftTree SQL Editor is part of SQL Assistant Professional Edition; it provides professional database development and database management IDE supporting all major relational database systems.
Users agree, it's an amazing platform; built over 15 years, loaded with tons of features, enabling you
Manage and develop for 14 database platforms using a single IDE.
Turbo-boost your productivity using best in the world 6th generation SQL Intellisense.
Perform graphical database administration and monitoring.
Create and manipulate database objects through intuitive GUI.
Design your database schemas using graphical database modeling.
Visually analyze your SQL code using flow diagrams.
Quickly generate documentation for your database applications.
Utilize in memory instant data pivot and analytical reporting features.
Automate SQL code generation for batch updates of database object properties. Can you imagine generating SQL code for modifying permissions of a set of objects with just 3 clicks?. Generating CRUD procedures for all schema tables?
Maintain your database code in a source code control system such as Git, Subversion, Perforce, and Microsoft Team Foundation Server.
Utilize advanced schema and data comparison tools for database application upgrades and migration, including comparison across different database platforms.
... the list of supported features goes on, and on, and on. One page is simply not enough to list them all. That's why there are 500+ pages of documentation provided to help you find what you need.
Did we say it's really inexpensive?
Try it for yourself and see what a difference it can make. Download SQL Assistant full featured 14-day trial version now and start using it in less than 3 minutes; no system restart required.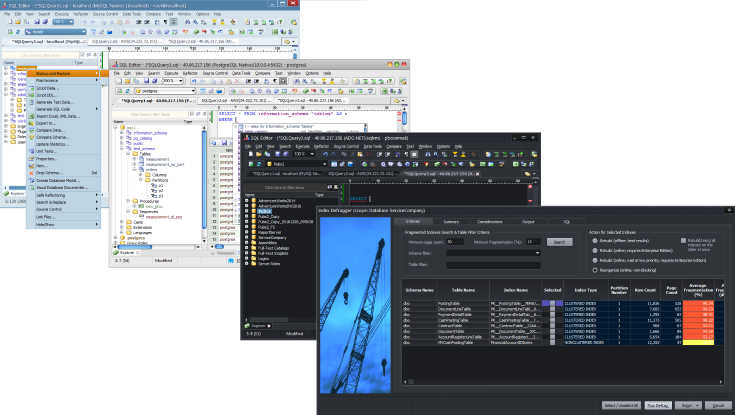 See more screenshots here
---